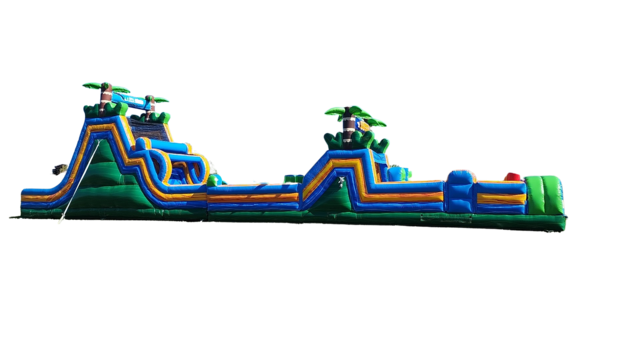 Warped Jungle Run
Actual Size: 70L X 10W X 17H
Setup Area: 76L X 16W X 18H





Available Booking Options

1-6 Hours

Displayed Price

Overnight
(Picked up after 9:00am)
(we reserve the right to decline for any reason)

+30%

2 Day Special
(Drop off before 11am pick up next day after 5pm)
(we reserve the right to decline for any reason)

BEST DEAL

+50%

Displayed Price

Holidays and Other Busy Times May Affect Regular Pricing
(This includes Memorial Day, 4th of July and Labor Day Weekends)



Warped Jungle Run
Introducing The Warped Jungle Run. Our thrilling 74-foot obstacle course is an adrenaline-pumping playground that will leave you breathless and eager for more! This colossal inflatable extravaganza is designed to test your agility, strength, and determination as you conquer a series of exhilarating challenges.
Dive headfirst into a world of excitement as you navigate through a labyrinth of tunnels, each twist and turn presenting a new mystery to unravel. Watch out for pop-ups that surprise you at every corner, keeping you on your toes! Squeeze walls will test your flexibility as you wriggle through tight spaces, and knockdown obstacles add an element of strategy to your journey.
But the centerpiece of this inflatable wonderland is the warped running wall. Scale it with the agility of a ninja, If that's not enough, a rock climbing wall awaits, challenging you to reach new heights before taking a thrilling descent. Brace yourself for an exhilarating slide down to the finish line.
Whether you're a thrill-seeker looking for an exciting challenge or a competitive spirit seeking the ultimate race against friends, our 74-foot inflatable obstacle course promises an unforgettable adventure filled with laughter, camaraderie, and epic triumphs. Get ready to conquer the course and create memories that will last a lifetime!